Prospective Buyers
The Summit at Autumn Hills is a gated community of 95 home sites that are a minimum of five acres each. Our homeowners' association has By-laws, Covenants, Conditions, and Restrictions (CC&Rs), and Architectural Controls and Guidelines (AC&Gs) that are designed to ensure property values are maintained, as well as enhance the overall quality of life in our beautiful location. We are located in the Camas School District, home to top-rated Camas High School.
When you arrive home at the Summit, you will experience a relaxed, slower paced lifestyle than what you might find closer to the center of Portland. Our neighborhood is surrounded by nature with towering pines, alders and wildlife. We have marked trails for hiking and horseback riding. More days of the year we have sunshine when it's cloudy and overcast in the valleys because of our elevation.
This Map illustrates the properties and trails of the Association.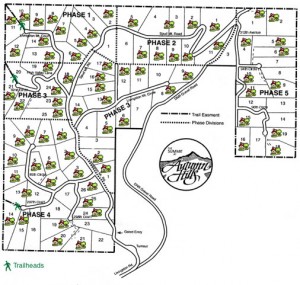 For more information please contact us.
---
Click below for the Association documents.